Welcome to WeCanTeach
Founded in the United Kingdom in 2012, WeCanTeach is specialized in providing tailor made individual lessons in English and boutique language services for children, teenagers, adults and professionals in every sector.
WHO WE ARE
Teaching
What differentiates us from others is that teachers are all bilingual, which means having a profound knowledge of both cultures. The advantage that students derive from such contact is enormous.
Reliability
Knowing that you can count on a person who with determination and perseverance will lead you and your children to achieve the results and objectives required without abandoning you, is priceless.
Who is WeCanTeach
WeCanTeach is a customized Educational Company. We offer "boutique" language services in Naples and the United Kingdom.
We like to think that we are different simply because we are.
Founder of WeCanTeach
My name is Andrea – and this is what life should be: Here and Now.
Make the most of every minute of your life. And in order to achieve this goal, there is no better way to learn another language.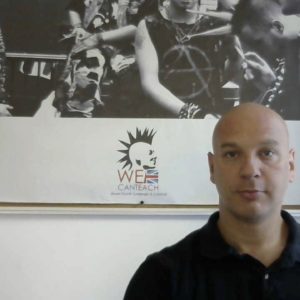 Andrea Cappellani
Founder
---
Why? Because learning another language does not just mean being able to communicate with more people, but actually means being able to live another life. In fact, knowing another language means becoming familiar with the culture, habits, customs and subculture.
For more information
Do not hesitate to contact us
Registered Office:
WECANTEACH Ltd,
Suite 312/A, Cotton Exchange, Old Hall Street
Liverpool L3 9LQ – United Kingdom
UK +44 (0) 208 8144 154
Email: info@wecanteach.co.uk
We are not on social media.
We prefer to socialise face-to-face.